WordPress is getting ready to release a major update that will completely change the way you edit content and design site pages. If you haven't prepared for Gutenberg yet, don't let it catch you by surprise when it launches. Get yourself ready by understanding how it works, where to test it out, and how to deal with potential issues when upgrading.
What Is Gutenberg?
Gutenberg is the new content editor that will be introduced in WordPress 5.0 later this year, and will ultimately replace the "Classic" Tiny MCE Post content editor. The improved editor aims to make the content publishing process more visual and simple. In addition, Gutenberg comes equipped with a slew of new features that are designed to give users more control.
The first thing users will likely notice about Gutenberg is the updated interface, which utilizes a simplified block-based system to create layouts for posts and pages. Essentially, you will have the ability to create and freely arrange content within site layouts using simple blocks of content, images, shortcodes, widgets, etc.
Each of these blocks is easily identifiable and can be dragged and dropped into different areas of the page as desired. There are also new alignment options, which are a progressive step for larger resolution screens and full-width template and responsive sites. These new features will help make building and customizing site pages much easier for people who are not well versed in HTML or shortcodes.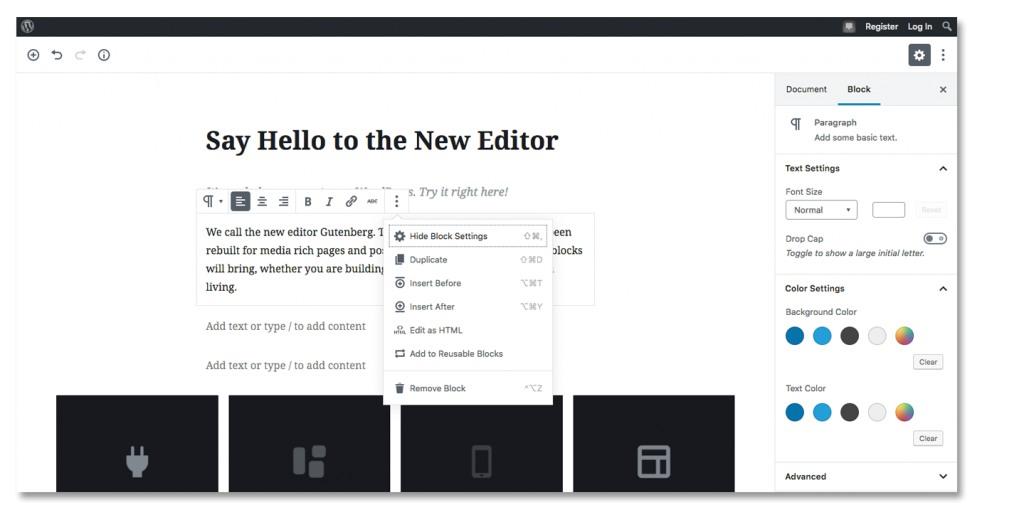 Here is a glimpse of the general interface and what the content blocks look like in Gutenberg. As you can see, the simplified layout provides a less distracting experience with more screen space for the user.
Get Familiar With It
Since Gutenberg is such a big departure from the Classic Editor, it's important to be prepared and to know the alternatives if you aren't ready to make the switch just yet.
Although Gutenberg is currently still in the testing stage, you can out the demo version. You can also download the official plugin. The team behind Gutenberg encourages everyone to play with it and leave comments/report any issues in the WordPress support forum to help with improvements.
Compatibility Concerns
As we get closer to the imminent launch of WordPress 5.0 and Gutenberg, it's important to be aware of any potential problems and how to help prevent them.
After visiting the Support Forum for Gutenberg, it's clear there are still some wrinkles to iron out.  A common concern is how the change will affect existing sites currently using the Classic Editor. Will there be compatibility issues? Will the update break page layouts or worse, the actual site? Can users roll back to the Classic Editor? Based on the initial feedback from users, not everyone is ready for the change and there is still work to be done before Gutenberg is released.
Although WordPress is working hard to ensure a smooth transition and is actively addressing issues reported on the Support Forum, unfortunately there aren't any guarantees that sites won't experience any adverse issues after upgrading.
Be Prepared to Revert
If you're feeling unsure about Gutenberg, the good news is that the Classic Editor is now available as a plugin. Get it here. The Classic Editor plugin will provide you with the option to revert your installation back to the Classic post-editing experience, which will remove any unwanted changes Gutenberg makes.
To help prevent issues before upgrading to WP 5.0 for your existing WordPress site, it's recommended to install and enable the Classic Editor plugin now and configure it to automatically default to the Classic Editor. This way, when you upgrade to WP 5.0, your site will continue to work as-is until you are ready (or not) to use Gutenberg.
Although we're not entirely sure what to expect with Gutenberg, 515 Media is staying on top of any new developments to make sure our sites will seamlessly adapt to the new editor and continue to run optimally.
In the meantime, take some time to get to know and understand Gutenberg, so you are ready when it launches.