Work Performed
Website Design and Development
515 Media Website Speed Boost
Consulting
Promotional Materials
Ongoing Maintenance and Support
VISIT SIGHTLINE MEDIA ENTERTAINMENT
Questions or comments?
Please get in touch by filling out our contact form!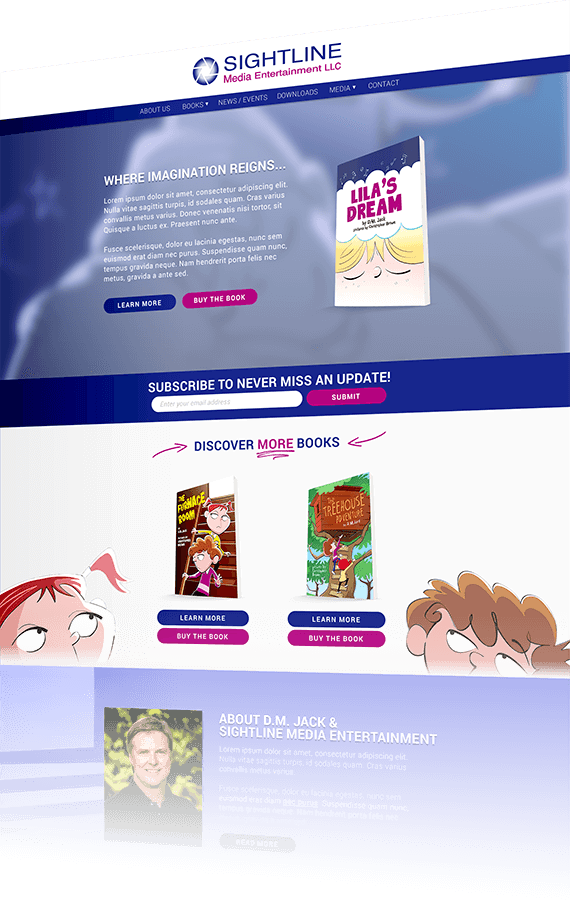 SEE THE FULL DESIGN
---
Background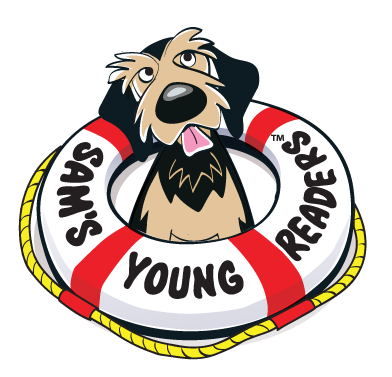 Sightline Media Entertainment LLC was founded in 2014 to create quality content across multiple media platforms, with an emphasis on high-quality children's picture books and movies. Their goal is to create inspirational, character driven stories that both entertain and touch audiences worldwide through universal themes.
David Jack, owner of Sightline Media Entertainment, has penned four children's books including the latest, Everybody Needs a Beast, which was released this year. We designed a brand new WordPress website for Sightline in 2017 and David was very pleased with the results.
This year, 515 Media released our new Website Speed Boost which includes:
Deferral of render-blocking CSS and JS
GZIP compression
Intelligent file caching
Script minification
Lazy load images everywhere
Automatic WebP compression
Optional CDN setup and support
Careful tuning for 100% compatibility with your server environment and plugins
Analysis of speed test results from Google PageSpeed Insights, Pingdom, and GTMetrix
This speed boost offers a number of advantages including:
Maximum longevity of your current site design
David saw the need to opt-in to this service to take advantage of some of these benefits. He signed up for this speed boost and was not disappointed with the results:
Results

When we analyzed Sightline Media Entertainment's performance using multiple speed report services, we found that David's website suffered from the following causes of slowdown:
Large image files
Render-blocking JavaScript introduced by several WordPress plugins
A poor cache policy
By addressing these key issues and implementing a few other bandwidth-saving techniques–such as GZIP compression–we were able to achieve a perfect Desktop score on Google PageSpeed Insights, and we nearly doubled his Mobile score to boot!
Sightline Media Entertainment now loads faster than ever. It can reliably draw content in under 3 seconds, which is reportedly the amount of time that most mobile users are willing to wait before abandoning your website. David is very happy that he can now promote his website without the hindrance of poor load times.
Don't just take our word for it – check out David's Google PageSpeed scores for yourself!
Desktop Performance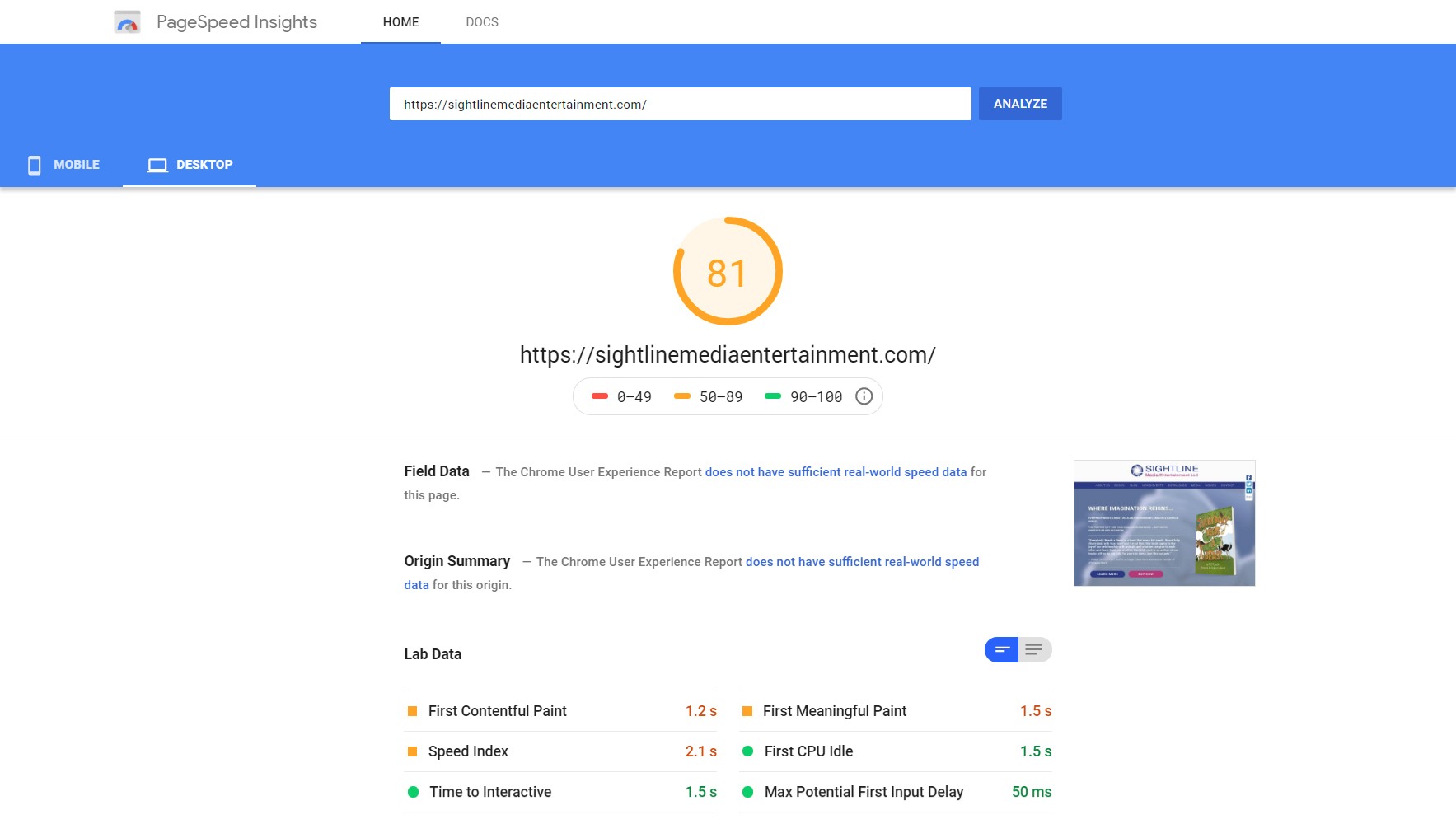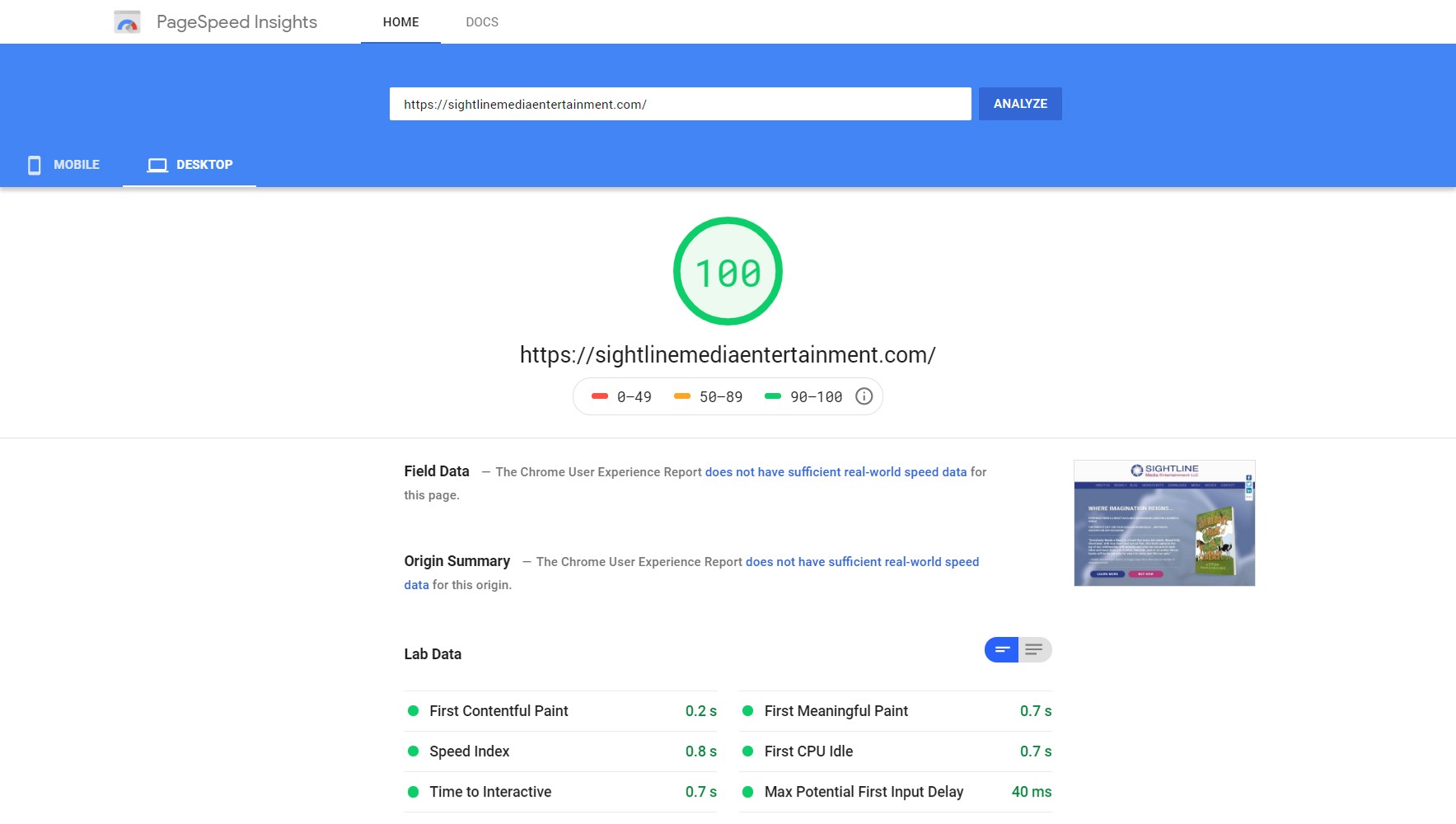 Mobile Performance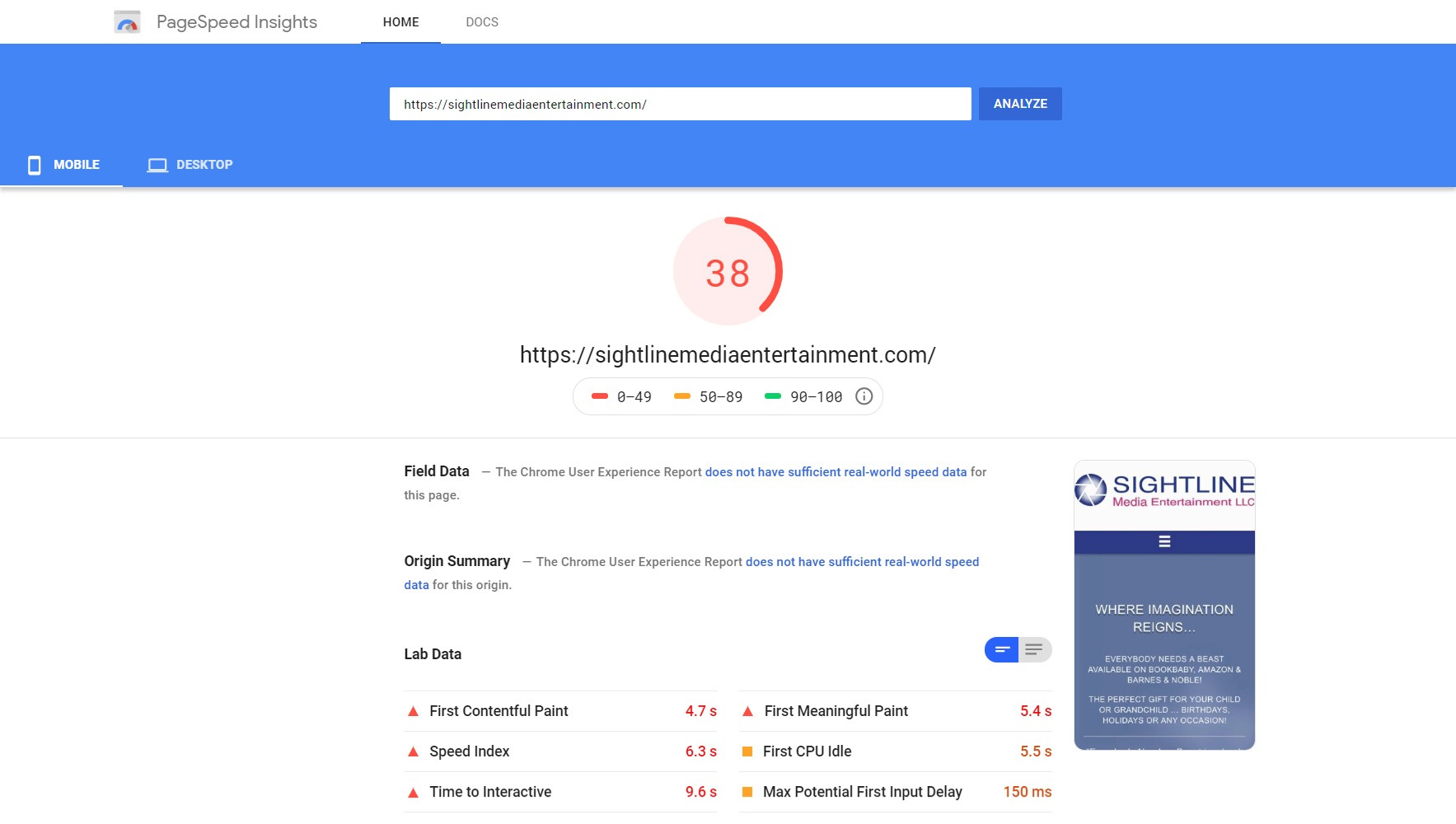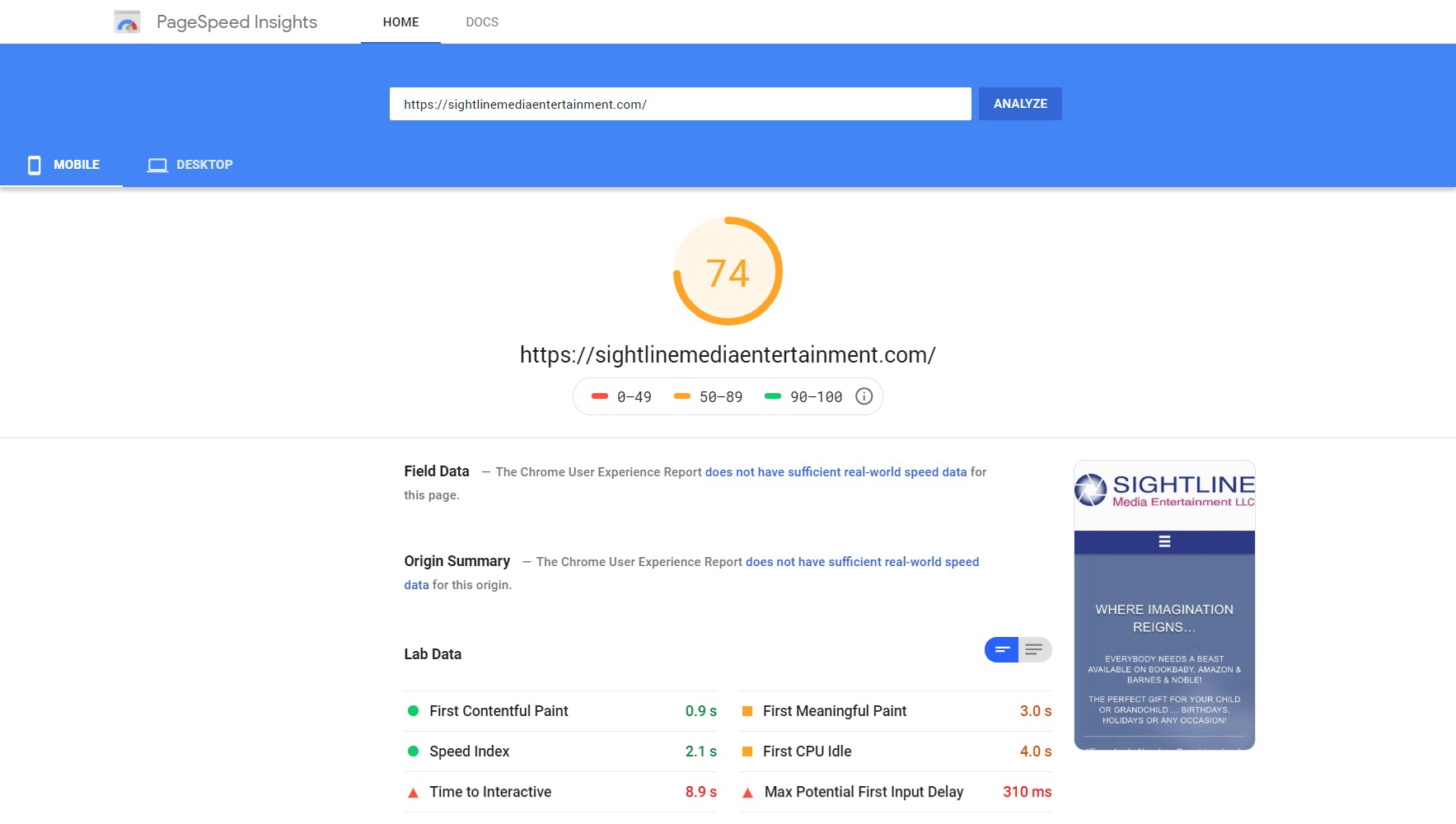 Want to know how your own website performs under Google's metric?
Run the PageSpeed test now by simply entering your URL here!
Feel free to contact us if you would like to discuss your results in detail.
Testimonial from Client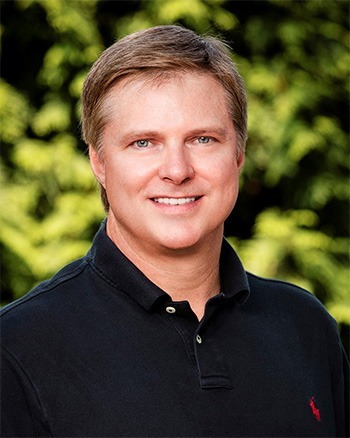 "I have worked with Mike and Chris for years – well before 515 Media was even formed – and they have never let me down. It's very difficult to find an honest business with integrity and old fashioned work ethics but that is exactly what I get with 515 Media. I cannot and will not go anywhere else for my business website needs.
Mike and Chris respectfully listen to all my feedback and always come up with ways to work with me to achieve the efficiencies and optimization needed for today's competitive business environment.
I wholeheartedly recommend 515 Media for your website development and maintenance and encourage you to listen to their recommendations because it's all about making your site work for your customers, which in return will generate more attention and sales – at a very fair cost.
Feel free to visit my 515 Media created website at https://sightlinemediaentertainment.com.